Short Stay Apartments Midtown Atlanta
StayTony Midtown Atlanta furnished apartment rentals, located at 207 13th St NE in a trendy high-rise apartment building with 24/7 concierge service. Both studio and one-bedroom furnished apartments are available for short stays (30 days or more).
StayTony Midtown Atlanta Short Stays are similar in concept to WeWork except they are for living spaces, not office spaces—to be used while you are figuring where and what your long-term housing needs are, StayTony Midtown Atlanta allows you to stay in the perfect place to do so.
Why Are StayTony Short Stays So Popular?
In a Forbes article by Amanda Lauren, she states "Working remotely is becoming the norm and as the world becomes more mobile, so does the demand for legitimate short-term rentals."
StayTony founder Tony Diamond is quoted, "More and more people are choosing fully furnished apartments as a lifestyle choice because they want flexibility and mobility." The article goes on to say "StayTony combines the personal touches of an Airbnb with the luxury of a boutique hotel, and the convenience of corporate housing."
Making StayTony Atlanta Midtown rentals more attractive to this emerging client base is Flex Rent, a concept introduced to the short-term housing market by StayTony, which allows tenants to finance their initial stay over a six month period, interest free with only a small payment required at move-in.
StayTony short-term apartment rentals in Midtown-Atlanta are popular among today's executives who are relocating to Atlanta for a job or project. They offer an attractive solution for current Atlanta residents who need a place to stay while renovating or remodeling their current home. StayTony Short Stays are also ideal for people who are planning to move to Atlanta, short or long term and need a place to land so they can hit the ground running upon their arrival.
Prime Midtown Location
Situated in a trendy, high-rise built in 2017 and located at 207 13th St NE in Midtown Atlanta, just a half-block from Piedmont Park and Peachtree Street and convenient to restaurants (STK Atlanta and South City Kitchen Midtown), bars (Park Tavern and Foxtrot Liquor Bar), shopping and the major Atlanta film studios. StayTony Midtown Atlanta is ideal for those seeking furnished, short-term apartment rentals in a prime Midtown Atlanta location.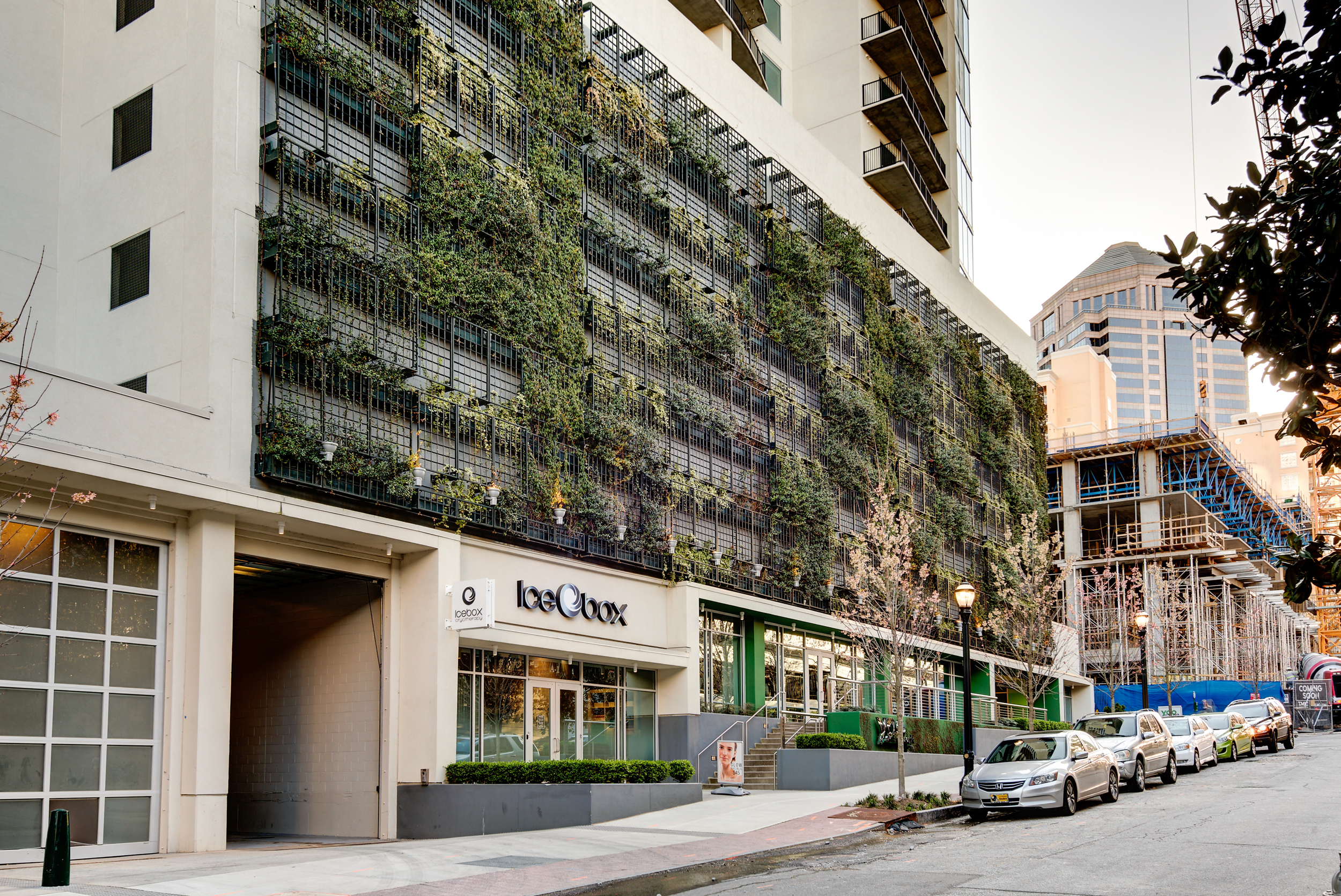 As founder Tony Diamond says in Jezebel Magazine,"We're location snobs. We won't open a location unless we feel the building is on the best block, on the best street and in the best neighborood." StayTony Midtown Atlanta, sitting pretty right between Piedmont Park and Peachstree Street fits this description perfectly .
Jezebel Magazine goes on to describe StayTony as "a collection of short-term (read: one-month minimum), fully furnished apartments fit for those awkward in-between times that are too long for a hotel but too short to define the relationship with a new lease."
Know Atlanta says StayTony provides "one-of-a-kind short-term apartment homes, offering the most exceptional customer service possible, available in the heart of Midtown Atlanta. (They provide) a unique new spin on the Atlanta short-term housing market."
Today, StayTony Midtown Atlanta is quickly gaining recognition as an innovator in furnished apartment and corporate housing rentals. Cleaning and maid service are offered and all of the apartments are pet friendly (additional deposit required).
StayTony Midtown Atlanta Amenities
StayTony's furnished Atlanta rentals are designed to ensure you enjoy your temporary stay in comfort and elegance. All of the apartments provide a high level of privacy and security. Between the apartment units and the building itself, you have a full range of amenities to enjoy:
Common Area Amenities
24-hour concierge services
24/7 on-site maintenance
24-hour fitness center
Saline pool with lounge
Controlled access building
Controlled access parking
On-site lifestyle director
On-site management
Pet Respite - Concierge and pet care services
Climate controlled storage
Bike City secure storage
Dry cleaning/laundry service
Executive meeting room
Media and billiards lounge
Video conference technology
Luxurious lounge and library
Seasonal organic herb garden
Social programs for residents
Golf simulator/gaming lounge
Indoor/outdoor yoga studio
Juice bar/coffee service
In-Room Amenities
Full gourmet kitchens
Front-loading washer/dryer
All utilities included
High speed WiFi
Full cable package
Nest Learning Thermostats
9'5" ceilings in living area
Designer recessed lighting
Utensils and linens
Complementary bottled water
Signature StayTony bathrobes and slippers
Complementary bath-kit
In-home package delivery
Who Are StayTony Atlanta Apartments Designed For?
Short-term or short stay apartments are designed for those new to the Atlanta area who don't want to commit to a long-term lease arrangement yet and would rather get their feet wet and gain their bearings first. This includes people like:
New or soon-to-be residents: business owners, consultants, students and graduates, employees and job seekers.
Long-time Atlanta residents: local home owners requiring a temporary place to stay while they renovate or remodel their home.
Entertainment: performers and film and TV crews, especially above the line personnel.
Disaster Relief: temporary insurance housing for survivors of floods, fires, hurricanes, earthquakes tornadoes and other natural disasters.
Interns: business, medical and legal interns.
Technology: contracted programmers.
Disaster Relief: temporary insurance housing for survivors of fires, earthquakes, tornadoes,hurricanes and other natural disasters.
Manufacturing and Construction: project managers and project staff.
Professional: business consultants.
Energy: oil and gas exploration workers.
Healthcare: medical researchers, travel nurses and patients undergoing lengthy treatment plans.
Banking and financial: auditors
StayTony Midtown Atlanta caters to these professionals with a selection of ready-to-move-in, upscale designer units—large, fully furnished studio and one-bedroom apartments (670 sq. ft to 1000 sq. ft.) that are available for short-term rental.
Short-Term Short Stay Apartment Solutions
Furnished, short-term apartment rentals, otherwise known as temporary rentals, corporate housing, or short stays are fully furnished accommodations with a minimum 30-day rental. The average length of occupancy of Stay Tony Midtown Atlanta is two to three months—long enough for the tenant to get comfortable and knowledgeable moving around Atlanta, get situated in their new job or career path, before they start looking for a more permanent rental location or home buying opportunity.
StayTony realizes that anytime you relocate, whether just starting out as a professional or a seasoned veteran, expenses mount up quickly. StayTony's Flex Rent solution can ease the financial burden of relocating by offering low down payment and no-interest financing of your rental over six months—or one year financing with applicable interest.
If StayTony Midtown Atlanta sounds like a solution to your upcoming short-term housing needs, please call us at (404) 973-2425.
Contact StayTony
If you are seeking a furnished short-term apartment in Midtown Atlanta for less than permanent but longer than the usual business trip or vacation stay, we invite you to consider StayTony Midtown Atlanta.
StayTony Midtown Atlanta Leasing Office
1170 Peachtree St NW Suite 1200
Atlanta, GA 30309
Phone: (404) 973-2425
Hours: 10a.m. to 10p.m. EST
StayTony Midtown Atlanta Apartment Location
207 13th St NE
Atlanta, GA 30309
Reviews
StayTony has taken the magic and elegance of their Hollywood and Beverly Hills executive suites/monthly rentals and brought them to midtown-Atlanta. The results are magnificent. The amenities are to die for. And to answer your question, I loved the rainfall shower head.
Mike K.
My time at StayTony was approximately 3 months. It truly felt like home from the time I first opened the door. It was like a luxury hotel with all the comforts of a home and then some. The unit itself is fantastic and is exactly as listed. Highly recommended!
Debbie W.