Corporate Housing Hollywood
Corporate housing makes a lot of sense for the business executive who is relocating to Hollywood due to a change in jobs. StayTony Hollywood caters to this corporate executive market with a host of ready-to-rent designer suites—fully furnished studios, one and two bedroom units.
While originally conceived to provide a solution to the need for short to medium term lodging for re-assigned corporate executives, today StayTony Hollywood corporate housing offers accommodations that fit the lifestyles for a variety of industries.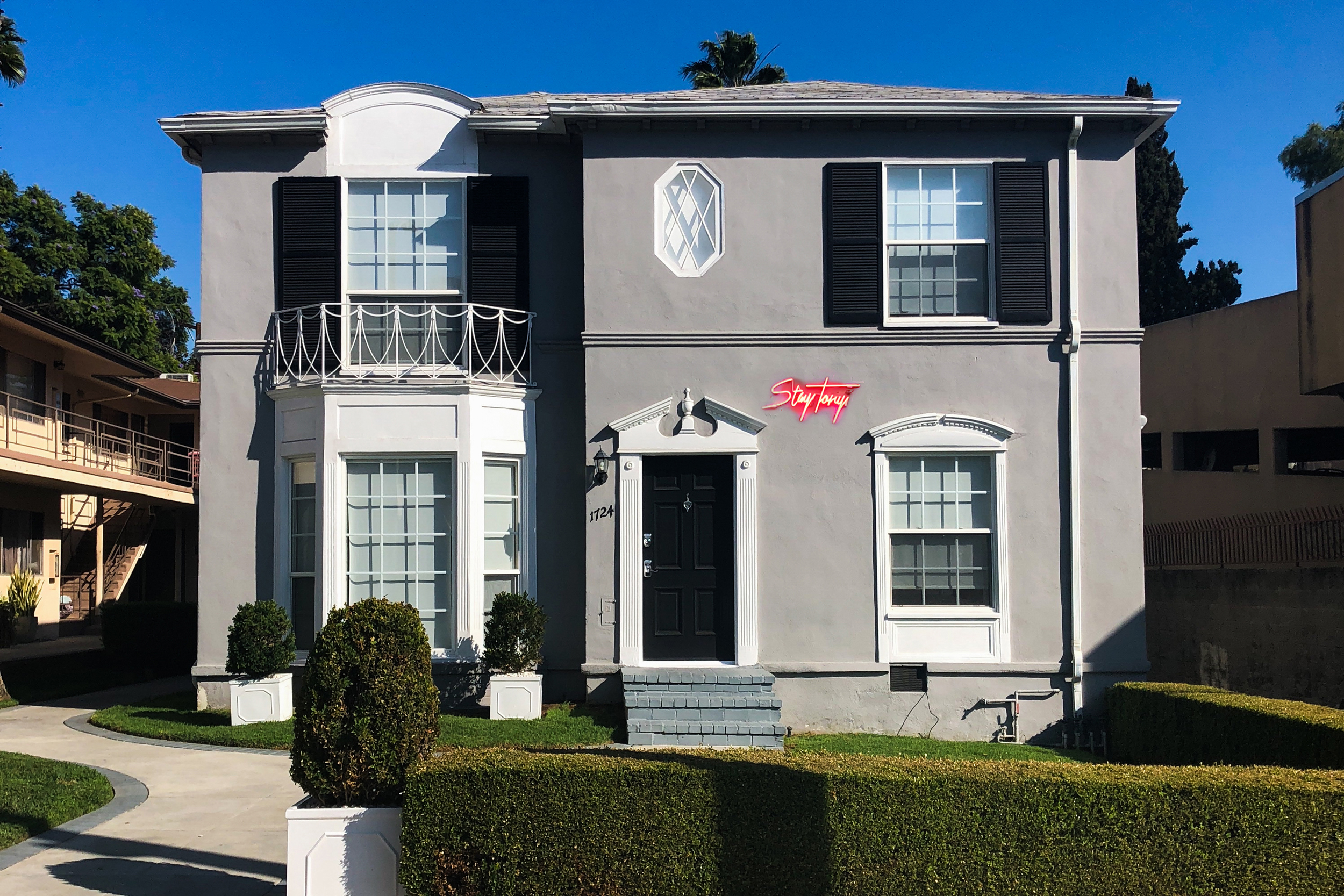 Who Stays in Corporate Housing?
Entertainment industries: performers and film and TV crews, especially above the line personnel.
Healthcare industries: travel nurses, medical researchers and patients undergoing lengthy treatment plans.
Professional services: business consultants.
Energy industry: gas and oil exploration workers
Government and Military: reassigned service personnel
Construction and Manufacturing industries: project managers
Technology: contracted programmers
Finance and banking: auditors
Interns: medical and business interns
What Are The Benefits Of Corporate Housing?
Corporate housing, also known as temporary housing, supplies fully furnished and serviced accommodations that are available for temporary rentals—usually for 30 days or more.
The average stay is two to three months which allows the executive to get comfortable in their new city and job, before having to find a permanent rental or purchase solution to their long-term housing needs.
All of the units at StayTony Hollywood offer a high level of privacy, with many of them having their own entrance. Typically, even the smallest corporate apartment is larger than a hotel suite.
All of StayTony's Hollywood apartments have full kitchens featuring gourmet appliances and are located in the very best residential Hollywood neighborhoods.
StayTony Hollywood short term rentals come fully furnished with utilities included, including high speed WiFi and full package cable TV. Washer/dryer, towels, bedroom linens, pots and pans are all included in the monthly rate. Housekeeping services are available and all units are pet friendly.
Enjoy Hollywood With StayTony
Corporate Housing from StayTony is perfect for those who are relocating to Hollywood for a shorter period of time than permanent, but longer than the usual business trip or vacation.
Contact Us
StayTony Hollywood Leasing Office
355 N Canon Dr
Beverly Hills, CA 90210
Phone: (310) 490-6665
Hours: 8a.m. to 7p.m. PST
Hollywood Corporate Housing Location
StayTony Hollywood
1724 El Cerrito Pl.
Los Angeles, CA 90028
Reviews
Just wanted to thank you for making my time at StayTony Hollywood easy and comfortable. A hotel would have cost a fortune so this really worked as a short-term rental during my renovation. Your attention to detail is outstanding and you really know how to make your guests feel at home.
Frederick C.
I moved into StayTony Hollywood last December, planning on staying a month or two until I found a permanent place in Las Angeles. 4 months had passed and I realized I had not even begun to look. I was very happy there. The closet space is huge which is key for me in fact much larger then most one bedrooms to rent, the landlord, Tony also did an incredible job with making a small space feel large. I wound up living there a year only moving out a week ago for location purposes due to my needs. I saw many tenets come and go and all of my neighbors were lovely. StayTony Hollywood is a fabulous apartment building ideally located and I would recommend living there to anyone.
Richie M.
I stayed at StayTony Hollywood for 2 months and it was an amazing experience. The apartment was immaculate and beautifully decorated. The property is kept pristine and the location is right in the heart of everything. The landlord Tony is extremely kind, and generous of his time. He truly cares about his building and it's tenants. I could not have asked for a better experience in LA.
Levi C.
StayTony Hollywood is perfect for anyone needing a temporary residence with most amenities paid for and zero hassle. It's centrally located, professionally managed, well-maintained and beautiful. I really enjoyed my stay at this wonderfully unique apartment building. Thank you!
Scotty G.
Tony was a great landlord and the corporate apartment that I rented from him was perfect for my 6-month stay in Los Angeles. Tony was quick to respond to any questions that I had and was eager to solve any issues I had with the apartment. The apartment was very clean and looked just like the photos on the website. The street that it was on is very close to Hollywood Blvd but the noise level was very low. I would definitely rent again from Tony and feel good about recommending him to any potential clients.
Junie P.
My stay at StayTony Hollywood was approximately 3 months. Tony Diamond did an exceptional job of making sure the place was well kept. Not only was it extremely clean but very well decorated. I have lived in many parts of Los Angeles and this portion of Hollywood was both safe and comfortable. The Wi-Fi always worked well and the amenities were wonderful. Tony was great at keeping in contact if there was ever something my roommate and I needed. When I had visitors they could locate parking pretty easily especially if it was past working hours. If you are looking for a well-furnished corporate apartment in the Hollywood area I would highly recommend StayTony Hollywood. For the style and quality of the apartment it is without a doubt the perfect place to stay.
Leija B.
Tony was incredibly accommodating, kind and professional. He's also very reachable which I appreciated BOTH times I accidentally locked myself out. Within minutes he had someone there to let me in and was so compassionate and understanding. The unit itself is fantastic and is exactly as listed. Highly recommended! Location feedback: If you want to experience the landmarks in Hollywood the location is great! Super close to CVS, Fresh & Easy and plenty of bars/restaurants.
Randi M.
Hey Tony, Just a quick note to say thank you for everything. Your company and the way you run it could be a model for how other companies should run similar operations. I couldn't be happier with the way everything went and with the accommodations. So, thank you. I know I'll be a client in the future, any time I have to put somebody up, family and whatnot, you're the first call I'm going to make. AND thank you for renting this out as I'm leaving. I know you didn't have to do that, and I really appreciate it.
Peirre G.
Tony, thank you so much for our stay at StayTony Hollywood. It truly felt like home from the time when we first set our suitcases down. It was like a luxury hotel with all the comforts of a home. After living in many parts of LA, I would have to say that the location was perfect! We walked to everything. It was so nice to take a break from the traffic and literally run errands. We even started doing yoga at Runyon because it's so close by and outdoors. Anyways, we wish that everyone could get a chance to experience StayTony Hollywood. It shows LA's best side and makes it easy to live in a big city. We will be back! Thanks again.
Dominic P.