Short Stay Apartments Hollywood
StayTony Hollywood offers prime short stay apartments. These furnished apartment rentals in Hollywood consist of eight units: four one-bedrooms and four large studios units that together are the Dorothy building, a Hollywood icon.
These short-term rental apartments in Hollywood – which require a stay of at least a 30 days – have been designed with the executive who needs to relocate to Hollywood for career, job or project needs in mind. Long-time Hollywood residents whose permanent residence is undergoing remodeling use StayTony as a temporary haven while construction takes place. They are an ideal solution for the anyone planning to move to Hollywood and needs a temporary rental while they get their bearings.
StayTony Hollywood is a wonderful solution to this short-term apartment rental and in need of transitional housing market with its collection of ready-to-move-in, elegantly furnished apartments—studio and one bedroom rentals--ranging from 450 sq. ft to 875 sq. ft.
StayTony Hollywood short-stay furnished apartments are perfectly designed for the lifestyles of a variety of industries and occupations, provide a fabulous foundation for new beginnings and meet temporary and transitional lodging needs in great comfort and style.
Furnished Short Term Rentals In Idyllic Hollywood Location
StayTony Hollywood, which is located at 1724 El Cerrito Pl, in Hollywood, is in an elegant and private setting that is just steps from the Hollywood Walk of Fame, The TLC Chinese Theater, the Hollywood Wax Museum and other major attractions. StayTony Hollywood is perfectly situated for those who are looking for furnished short-stay rentals (30-day minimum) in a classic Hollywood location and environment.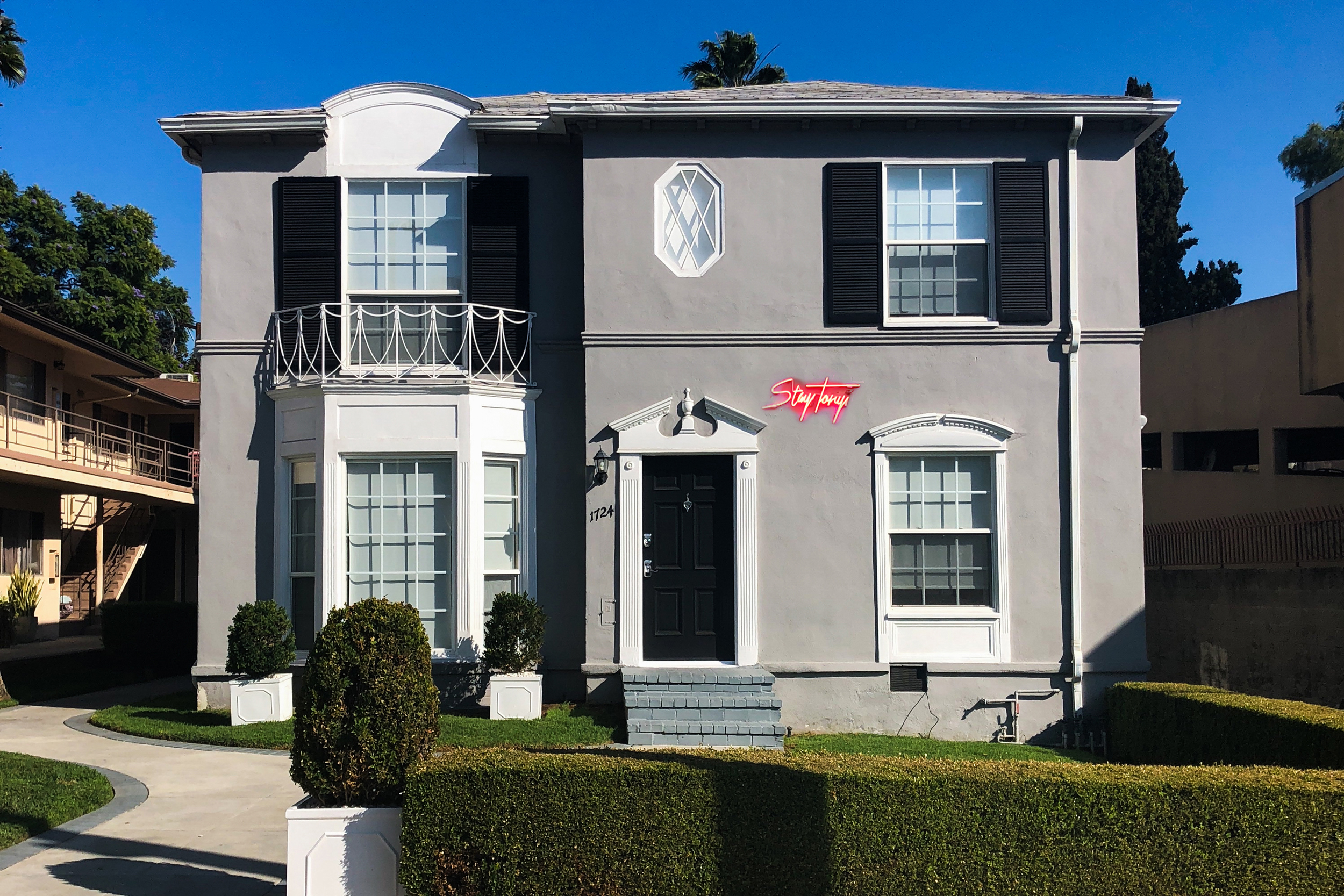 Curbed LA describes The StayTony Hollywood building as a local landmark. "Charming Hollywood Regency Style, Pride of Ownership apartment building built in 1939, in an excellent Hollywood location. A stunning asset with elegant construction and beautiful street appeal."
Interiors That Are Elegant, Refined And Chic
The rental units at StayTony Hollywood are always rented as move-in ready. They are designer chic, and feature hand painted wall coverings and custom-designed and built furniture. Comparing a StayTony short-stay apartment to a luxury hotel room, with StayTony you get more floor space and a fully equipped kitchen while enjoying the move-in ready convenience of a hotel.
Angeleno Magazine Corporate Chic section described the furnishings and design style of the collaboration between noted interior designer David McCauley and founder Tony Diamond to be "straight chic".
Today, StayTony Hollywood resurrects the traditions of a bygone Hollywood, as it captures the glam and glitz of that golden era with a modern practicality. Maid service and cleaning are available and the rental units are pet friendly (deposit required).
StayTony Furnished Short-Term Rental Amenities
The StayTony Hollywood short stay, short term rentals come completely furnished and are designed to have everything you need for your temporary stay in Hollywood to be delightful. All of the apartment units are very private and some have private entrances. All of the apartments include the following amenities:
High-speed WIFI
Large Flat Screen TV
Full cable package
All utilities included
Complementary parking
Fully equipped kitchens
Utensils and linens
Designer furniture
Marble kitchen countertops
Hardwood floors
Complementary bottled water
Signature StayTony bathrobes and slippers
Complementary bath-kit
Cleaning and maid service available
Pet friendly (with deposit)
Who Uses Furnished Short-Term Hollywood Rentals?
Short stay or short-term apartment rentals are a great choice for arrival move-ins for the Hollywood or Los Angeles area who would like to get a lay of the land and an understanding of how the city is laid out before they sign up for a long term or more permanent solution. StayTony Hollywood is designed for:
Current Area Residents: Hollywood home owners who need temporary accommodations during a remodel of their home or who have friends or family that need close by lodging.
New to the Area Residents: employees and business owners, consultants, job seekers, students and graduates.
Construction and Manufacturing Sector: project managers and by-the-project staff.
Intern Sector: medical, legal and business interns.
Healthcare Sector: travel nurses, patients with lengthy treatment plans and medical researchers.v
Entertainment Sector: TV and film production crews, performers and above-the-line personnel.
Government and Military Sector: reassigned public sector and military service personnel.
Energy Sector: gas and oil exploration workers and contractors.
Banking and Financial Sector: auditors.
Professional Sector: short-term contract hires and business consultants.
Disaster Relief: temporary insurance housing for survivors of hurricanes, fires, tornadoes, earthquakes and other natural disasters.
Short-Term Furnished Hollywood Rental Solutions
Short stay or short-term furnished rental apartments, also known as temporary housing, transitional accommodations or corporate apartments provide fully furnished, serviced rentals that are available for a 30-day minimum rental booking and beyond.
StayTony Hollywood tenants' average rentals of two to three months. This gives them time to get familiar with the city and decide where they would ultimately like to live while getting comfortable in their new city, job or career path before blindly committing to a longer-term rental location or house purchase. If this sounds good to you, call StayTony Hollywood now at (310) 490-6665
Contact StayTony
For the best short stays in the best Hollywood neighborhood please do not hesitate to contact StayTony Hollywood to arrange your booking.
StayTony Hollywood Leasing Office
355 N Canon Dr
Beverly Hills, CA 90210
Phone: (310) 490-6665
Hours: 8a.m. to 7p.m. PST
StayTony Hollywood Apartments Location
StayTony Hollywood
1724 El Cerrito Pl.
Los Angeles, CA 90028
Reviews
StayTony Hollywood has a killer location - close enough to everything you want to see or go to, but off the beaten track enough to be quiet and comfortable. The apartment itself is stunning: spacious, with designer touches everywhere. If you're looking for a great furnished apartment for a short term rental in Hollywood, this is it.
Michael T.