Short Term Rental Apartments Hollywood
StayTony Hollywood short term rental apartments are fully furnished and include eight units: four one-bedrooms and four large studios units that comprise the iconic Dorothy building.
These short-term furnished apartment rentals in the heart of Hollywood (30-day minimum stay) are perfect for the business executive who is relocating to Hollywood due to a change in jobs. They are an attractive solution for the Hollywood resident who needs an alternative place to stay while their home is being remodeled. They are ideal for the new-to-the-area, soon-to-be resident who is planning on moving to Hollywood in the near future.
StayTony Hollywood caters to this short-term apartment rental market with a host of ready-to-occupy, fully furnished designer apartments—studio and one bedroom rentals that range from 450 sq. ft to 875 sq. ft.
StayTony Hollywood furnished short-term housing rentals offers accommodations that fit the lifestyles of a variety of industries, provide a perfect launching pad for new beginnings and fulfill temporary housing needs in great comfort.
Prime Hollywood Rental Location
Nestled in a tranquil oasis at 1724 El Cerrito Pl, Los Angeles CA 90028, just steps from the Walk of Fame, The TLC Chinese Theater and the Hollywood Wax Museum, StayTony Hollywood is ideal for anyone looking for short-term furnished apartment rentals (30-day minimum) in a prime Hollywood location.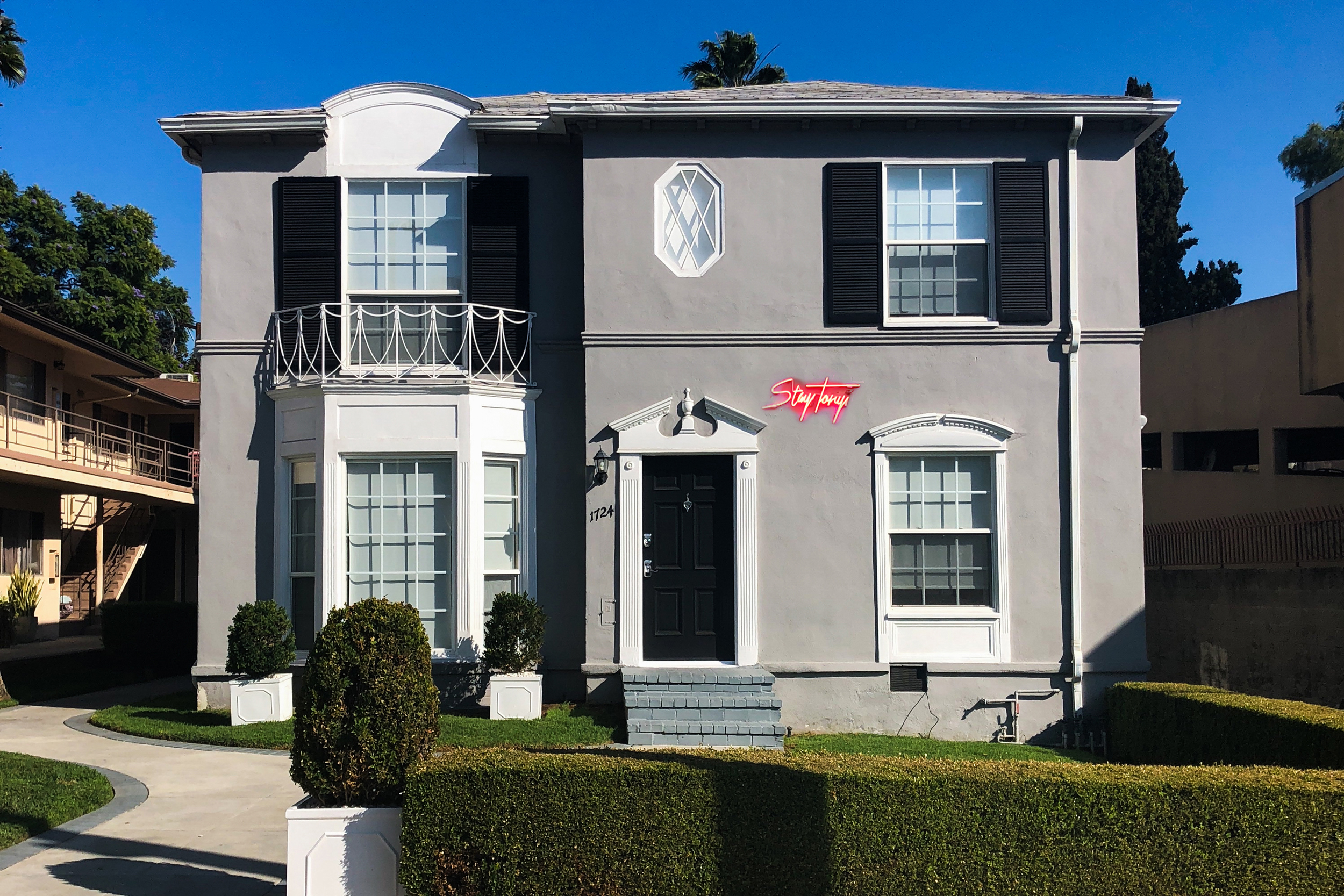 The building itself is a landmark, as described by Curbed LA. "Charming Hollywood Regency Style, Pride of Ownership apartment building built in 1939, in an excellent Hollywood location. A stunning asset with elegant construction and beautiful street appeal."
Elegance Designed For The Professional
The apartments at StayTony Hollywood are move-in ready and designer chic, featuring hand painted wall coverings and custom-made furniture. Compared to a luxury hotel room, StayTony apartments have more floor space and fully equipped kitchens while providing the move-in ready convenience of a hotel.
Angeleno Magazine Corporate Chic section described the furnishing and design collaboration of founder Tony Diamond and interior designer David McCauley in StayTony Hollywood to be "straight chic".
Today, StayTony Hollywood proudly carries on the traditions of old-time Hollywood and captures the glitz and glam of the era but with a modern sensibility. Cleaning and maid service are offered and all of the apartments are pet friendly.
StayTony Hollywood Amenities
All StayTony furnished rentals are designed to have everything you need to enjoy your temporary stay in comfort and elegance. All units offer a high level of privacy and several have private entrances. They all include the following amenities:
Fully equipped kitchens
Designer furniture
Full cable package
High-speed WIFI
All utilities included
Utensils and linens
Signature StayTony bathrobes and slippers
Complementary bath-kit
Complementary bottled water
Complementary parking
Marble kitchen countertops
Hardwood floors
Cleaning and maid service available
Pet friendly (with deposit)
Who Uses Short Term Apartment Rentals In Hollywood?
Short term or short stay apartments are perfect for those new to the Hollywood or Los Angeles area who want to get their feet wet and gain their bearings before committing to a long term housing solution. This includes people like:
Residents new to the area: students and graduates, employees and job seekers, business owners, consultants.
Long-time residents of the area: local home owners who need temporary housing due to remodeling of their permanent residence or have guests or family that will be in the area for a month or more.
Entertainment industries: performers and film and TV crews, especially above the line personnel.
Manufacturing and construction: project managers and project staff.
Natural disaster relief: insurance provided temporary housing for survivors of fire, floods, hurricanes, tornadoes, earthquakes and other natural disasters.
Healthcare industries: travel nurses, medical researchers and patients undergoing lengthy treatment plans.
Technology: contracted programmers.
Professional services: business consultants.
Finance and banking: auditors
Interns: business, legal and medical interns
Energy industry: gas and oil exploration workers.
Short Term Rental Solutions
Short-term furnished apartment rentals, also known as temporary housing or corporate apartments or short stays provide fully furnished and serviced accommodations that usually require a 30-day minimum rental booking. Most new-to-Hollywood occupants remain at StayTony for two to three months which allows them time to get comfortable and knowledgeable in their new city, job or career path before they seek out a permanent rental location or home purchase solution to their long-term housing needs. If this describes you, then StayTony Hollywood should be your next call at (310) 490-6665
Contact Us
StayTony Hollywood Leasing Office
355 N Canon Dr
Beverly Hills, CA 90210
Phone: (310) 490-6665
Hours: 8a.m. to 7p.m. PST
StayTony Hollywood Apartments Location
StayTony Hollywood
1724 El Cerrito Pl.
Los Angeles, CA 90028
Reviews
After living at StayTony Hollywood for almost a year, I finally relocated last week. During my stay, I saw many tenants come and go and all of my neighbors were lovely. StayTony is a fabulous apartment building in Hollywood and I would recommend living there to anyone.
Rodolfo M.
Location, location, location. Service, service, service. StayTony Hollywood is a jewel of luxury in the heart of Hollywood. Elegantly appointed in close proximity to everything worth seeing or doing in Hollywood. My only wish is that I could have stayed longer.
Stacey K.